Our Real Estate Associates
Cable, Wisconsin Real Estate Agents | Bayfield County Wisconsin Real Estate Services
Camp David Realty, Inc.

P.O. Box 610
43520 Kavanaugh Road
Cable, WI 54821
Office Phone: 715-798-2252
Fax: 715-798-2252
Email: info@campdavidrealty.com
Dave Reichert – Broker/Owner
Cell Phone: 715-580-0085
Email: campdavidrealty@cheqnet.net
Email: dave@campdavidrealty.com
Dave hails from Nekoosa, a small town in central Wisconsin. A graduate of the University of Wisconsin, and member of Phi Gamma Delta fraternity, Dave worked for 30 years in the consumer products industry, first for Scott Paper Company, and then with M&M / Mars Company.
Dave is very familiar with the Cable area, visiting yearly for 39 years prior to making it his home in 2002. He and Sue currently live on beautiful Diamond Lake. Dave enjoys volunteering in the community. He is a past member of the Grand View Volunteer Fire Department, a current member and past President of the Cable and Area Lions Club, and a current member and past President of the Cable and Area Chamber of Commerce. Dave is an outdoorsman. He enjoys working and playing on his hunting property, a round of golf on one of the areas great courses or watching the sunset on pristine Diamond Lake.
Dave became a licensed real estate broker in 2003, and opened Camp David Realty, Inc. shortly thereafter. Dave has enjoyed servicing his real estate clients and customers for the past 15 years, and he looks forward to helping others find their permanent or part time residences in the North woods.
Jean Ayers – Broker Associate
Cell Phone:  715-456-4973
Email:  jean@campdavidrealty.com
Following the "call-to-the-north", Jean and her husband Troy, moved to northern Wisconsin in 1997. There they have enjoyed raising their 2 children in the splendor of the northwoods. They have lived in the Mason/Grand View area and now reside on Lake Namakagon.
A active community volunteer, including Grand View Firehouse 50, Cable Area Lion's Club, Grand View Methodist Church, and the Mason Fire and Ambulance Service, Jean offers a vast knowledge of the area and its communities.
Jean understands that buying and selling is stressful and a bit daunting. As a full time agent, she will work hard to make your transaction as smooth as possible.
Jean's goal is to help you follow your "call-to-the-north".
Cyndi Kastrosky – Broker Associate
Cell Phone:  715-292-3352
Email:  cyndi@campdavidrealty.com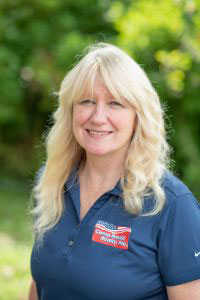 I moved to Cable to raise my children in 1987. The kids have since ventured out into life on their own paths, two in Hawaii and one currently in North Carolina. Great places to visit! I still live in the town of Cable with my husband Karl and our dog Radar plus a few chickens. I love the community spirit that is alive here in Cable and the surrounding areas.
I enjoy snowshoeing in the forest, fishing on our pristine lakes, taking a hike with the dog, touring around on the pontoon on lazy summer day or just relaxing on the back porch. This area has so many great recreational actives to embrace.
I love connecting people to real estate but it's so much more: it's dreams, lifestyle, growth and community all coming together! I would be very happy to put my drive, dedication, energy, and knowledge of the area, to work for you in helping you fulfil your Real Estate connection here in the Northwoods.
Facebook: @CyndiKastroskyAgent
Camp David Realty serves home buyers and sellers in Bayfield County and surrounding areas in Northwest Wisconsin.